Over the past 15 years, True Roots consultant Summer Lewis has worked in the field of international development, with significant experience in the coffee value chain, fair trade, and gender. Based on her expertise, she created and teaches "Women and Globalization," a course examining contemporary economic and political globalization through the lens of the coffee value chain. In following a cup of coffee from seed to mug, and the women and their families that make it possible, students are asked to reflect on how globalization has impacted the coffee supply chain, development, and women.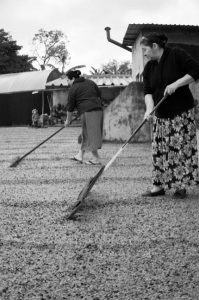 Through readings, podcasts, and videos from the international development and coffee industry, as well as practical, hands-on learning activities, students in "Women and Globalization" critically examine where they "fit" within the system—to consider how their actions at a local level are intricately connected with the livelihoods of women worldwide—via their morning cup of coffee.
Summer taught "Women and Globalization" as a 3-week, online course for the Kansas State University Gender, Women, and Sexuality Studies Undergraduate Program in late 2016, and plans are underway for future courses.
Click here for the course poster